This vegetable is wonderful and deserves more recognition, here's why:
- Kale is very high in calcium, 100g contains more than the equivalent in milk or yogurt.
-It's also full of anti-oxidants and a good source of vitamins A and D.
-It grows well in colder climates so in Britain it's far more likely to be local than other popular vegetables.
-As such, it's cheap! I bought a large bag for only 60 pence today, that's enough to serve at least five people.
-It takes no more than five minutes to steam and even less time to boil. It's inherently a fast, on-the-go sort of food.
-It's versatile - firm and strong enough to hold up in soups and with heavy wintry stews and light and fresh enough to be paired with fish or put in a salad
I would particularly recommend serving kale in a risotto with sausage meat; in a salad with chicken and chorizo or with halloumi and beetroot or in a Tuscan-style soup with tomatoes and butter beans.
Essentially, this is a wonder veg! Eat some!
Because my family isn't particularly personally progressive, while my mum is away I have taken over all the cooking and cleaning.
Fortunately, I like cooking and I am trying out all my experiments on my hapless Dad and sister. Getting enthusiastic about healthy food is a brilliant way to recover from restrictive eating.
Tonight's dinner was so brilliant that it needs to be shared immediately:
First Course: Griddled halloumi, steamed curly kale and beetroot-y couscous salad
The salad was made from a mixture of 100g cooked cous cous, the juice of a large orange, two cloves of garlic, a handful of parsley, a teaspoon of olive oil and two boiled and roughly chopped beetroots.
I served this with thinly sliced halloumi griddled in a little olive oil, a ton of steamed kale and some wholemeal pitta bread.
It was awesome, very fresh and Mediterranean. The sweetness of the beetroot perfectly complimented the saltiness of the halloumi.
Second Course: Peachberry Salad with Choco-Banicecream
(As you can tell, I have a great need to make up portmanteau names for my experiments.)
For the peachberry salad I mixed up some left over strawberries, blueberries and raspberries with two finely-sliced peaches.
The choco-banicecream was something simply extraordinary. Lots of health-food blogs had told me that if I froze chunks of banana and pureed them the next day I could get something along these lines: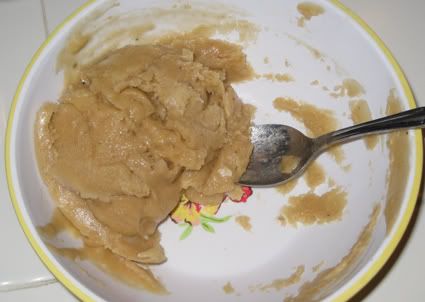 I was sceptical. I've tried frozen-fruit ice-cream approximations before and ended up with something gloopy and disappointing.
This was unbelievable, two frozen bananas made a very sweet, scoop-able something that was astonishingly similar to ice cream. I added two tablespoons of cocoa powder to make it that bit more indulgent.
It was a wonderfully healthy dessert. The whole meal felt good like it was nourishing and sustaining.
I'm going to continue making the most of this fundamentally anti-feminist housewife-y role. Hopefully tomorrow I'll even have some photos!